10 of the World's Leading Museums You Can Explore Digitally
Go inside some of the top collections around the globe from the comfort of your own home with
Google Arts & Culture's platform
By Lee Carter for Architectural Digest
18 March, 2020
In these unprecedented times, as
millions of people around the globe plan to remain indoors
for an indefinite amount of time, staying home from work and school means an abundance of extra time on their hands. But even if you're confined to your home, discovering art and history from the world's top institutions around the globe doesn't have to be off-limits.
Google Arts & Culture has teamed up with over 2,500 museums and galleries around the globe to create virtual tours and extraordinary content. While no digital platform can quite capture the magic and awe of strolling through a museum in person, Google's art digitization project is the next best thing. Here, 10 museums around the globe to visit virtually.
The Temple of Dendur at the Met.
With its grand front steps, sprawling rooms full of antiquities and paintings, and its lavish Met Gala costume party, the Met in New York City is one of the world's most revered institutions.
While this year's Met Gala is on hold
, the Costume Institute collection is still available to peruse on a rotating basis, along with the rest of the near-infinite collections. The couture works of Elsa Schiaparelli and Christian Dior are currently featured, as well as in-depth gigapixel (or one-billion-pixel) examinations of Vermeer's
Woman With a Water Pitcher
and Bruegel the Elder's
Harvesters.
Google also deployed its Street View technology to take viewers on a tour through the Temple of Dendur and other popular spots inside the museum.
2. Bauhaus Foundation, Dessau

Bauhaus School, built by Walter Gropius (1925–1926) in Dessau, Germany.
While the Bauhaus school was founded in 1919 and ceased operations in 1933, the years the groundbreaking German art and design school spent in Dessau—1925 to 1932—are widely considered its heyday. A virtual scrapbook takes visitors on a light-hearted journey through life as a Bauhaus student, from the student digs to the legendary parties. Viewers also learn that the school, despite its name, did not originally have an architecture department. It soon did develop one, though, thus becoming synonymous with modernist architecture and its merging of form and function.
3. Musée d'Orsay, Paris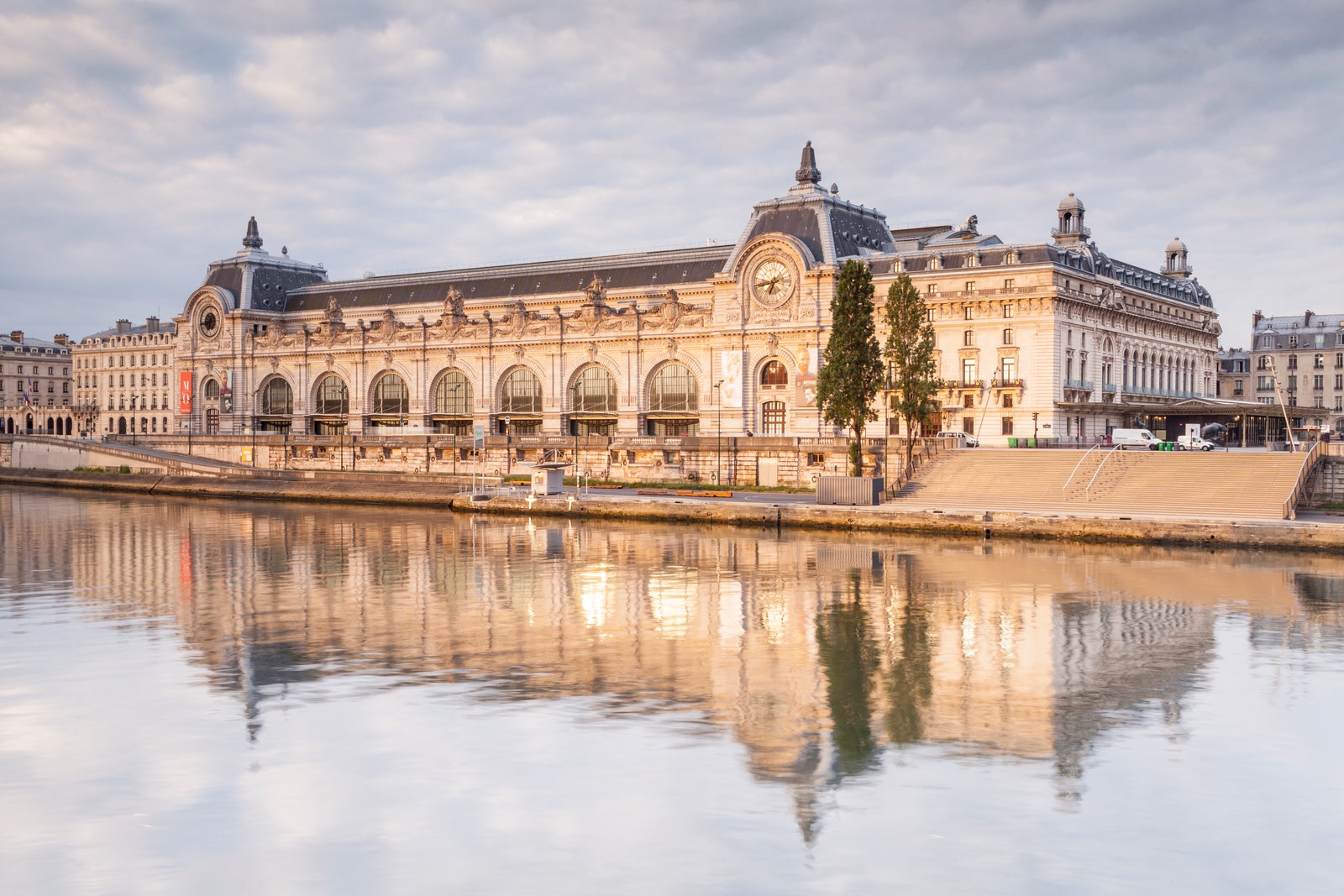 The Musée d'Orsay on the Seine in Paris.
Located on the banks of the Seine in Paris, the Musée d'Orsay is famed for its vast collection of Impressionist and post-Impressionist paintings, as well as the grandeur of the Beaux-Arts structure itself. Digital visitors can learn how the museum came to be, from its origins as a railway station for the Universal Exhibition of 1900, through to its modern iteration as a world-class institution. Master works by the likes of Monet, Manet, Degas, Renoir, Cézanne, and Seurat are highlighted along the way.
4. Guggenheim Museum, New York


New York's Guggenheim Museum.
Google's Street View gives an impressive tour of the Guggenheim's iconic spiral rotunda, a landmark of modern architecture by Frank Lloyd Wright, without you ever having to step foot on Fifth Avenue. Also available to browse is a smorgasbord of exhibitions from recent years, ranging from Matthew Barney's
Cremaster
series and Maurizio Cattelan's explorations of satire, to the vibrant glassworks of Josef Albers and a colorful collection of contemporary works from Latin America.
5. The Palace of Versailles, Versailles

One of Louis XIV's grand entrances to the Palace of Versailles.
King Louis XIV installed the French court and the royal residence in the Palace of Versailles in 1682. Until the French Revolution a century later, assorted kings took turns embellishing the palace into the gilded, over-the-top spectacle that it still is today. The Hall of Mirrors, Royal Opera, Grand Trianon, and those spotless, sculpted gardens can all be found online in great detail, along with the dwellings of its most notorious resident, Marie Antionette.
6. Uffizi Gallery, Florence
Inside the Uffizzi gallery.
The 16th-century structure designed by Giorgio Vasari may be temporarily closed, but anyone can browse its treasures from anywhere in the world. Notable works include its priceless Renaissance collection, much of which was commissioned by the Medici family in centuries past. Currently, Google is highlighting works by 16th-century masters Amico Aspertini and Piero di Cosimo, while Street View guides viewers through such influential Renaissance paintings as Sandro Botticelli's
The Birth of Venus
and Leonardo da Vinci's
Annunciation
.
7. La Galleria Nazionale, Rome

Façade of Galleria Nazionale d'Arte Moderna art gallery, founded in 1883, in the Villa Borghese public gardens in Rome.
Much of the museum's collection of 19th- and 20th-century art is available for online perusal, namely the Italian Futurist works of Giacomo Balla and Umberto Boccioni, as well as a special online exhibit devoted to geometric forms in modern Italian art and design.
8. Van Gogh Museum, Amsterdam


Inside of the Van Gogh museum.
The Van Gogh Museum in Amsterdam is home to the largest collection of artworks by Vincent van Gogh in the world, including over 200 of paintings. The tortured Dutch artist's artworks can be examined up close by virtually visiting the museum, where an online exhibit also examines van Gogh's love life—or lack thereof.
9. Victoria & Albert Museum, London


The courtyard of the Victoria & Albert Museum (V&A) in London.
Widely considered to be the world's leading authority on arts and design, the V&A in London houses a most impressive collection of ceramics, glass, textiles, jewelry, furniture, and sculpture. In their digital presentation, the museum is currently featuring rare examples of English medieval embroidery and looks from its "Savage Beauty" retrospective of Alexander McQueen, which was first exhibited at the Met.
10. Getty Museum, Los Angeles


The exterior of the Getty Center Museum and Research Center in Los Angeles.

The Getty Center—along with nearby Getty Villa—is the West Coast's preeminent repository of Old World art, in particular pre-20th-century European art. Take a Street View tour to discover its troves of paintings, drawings, sculptures, and manuscripts.
DROP US A LINE

info@hsi-eg.com


+20 2256 141 27 / +20 2256 141 28
+20 128 7831 831