HSI Headquarters
Ample harmonious space
HSI Headquarters showcases the best of our inspiring contemporary office design within a single structure. From the marble clad entrance way, to modern-style furnishing adorning every floor of the building, we've made every detail count here.
Exterior facade
The exterior of the HQ, emblazoned with our slogan, 'The Ultimate Design Destination' shines bright against the New Cairo sky, with a combination of electric signage and backlighting to accentuate the building's silhouette as well as our seminal lion logo.

Standing at 3 stories high, with a concealed roof area, the building's exterior is ornamented by metal truss that frames the height of the structure, adding stylish appeal that accentuates their enormous textured height.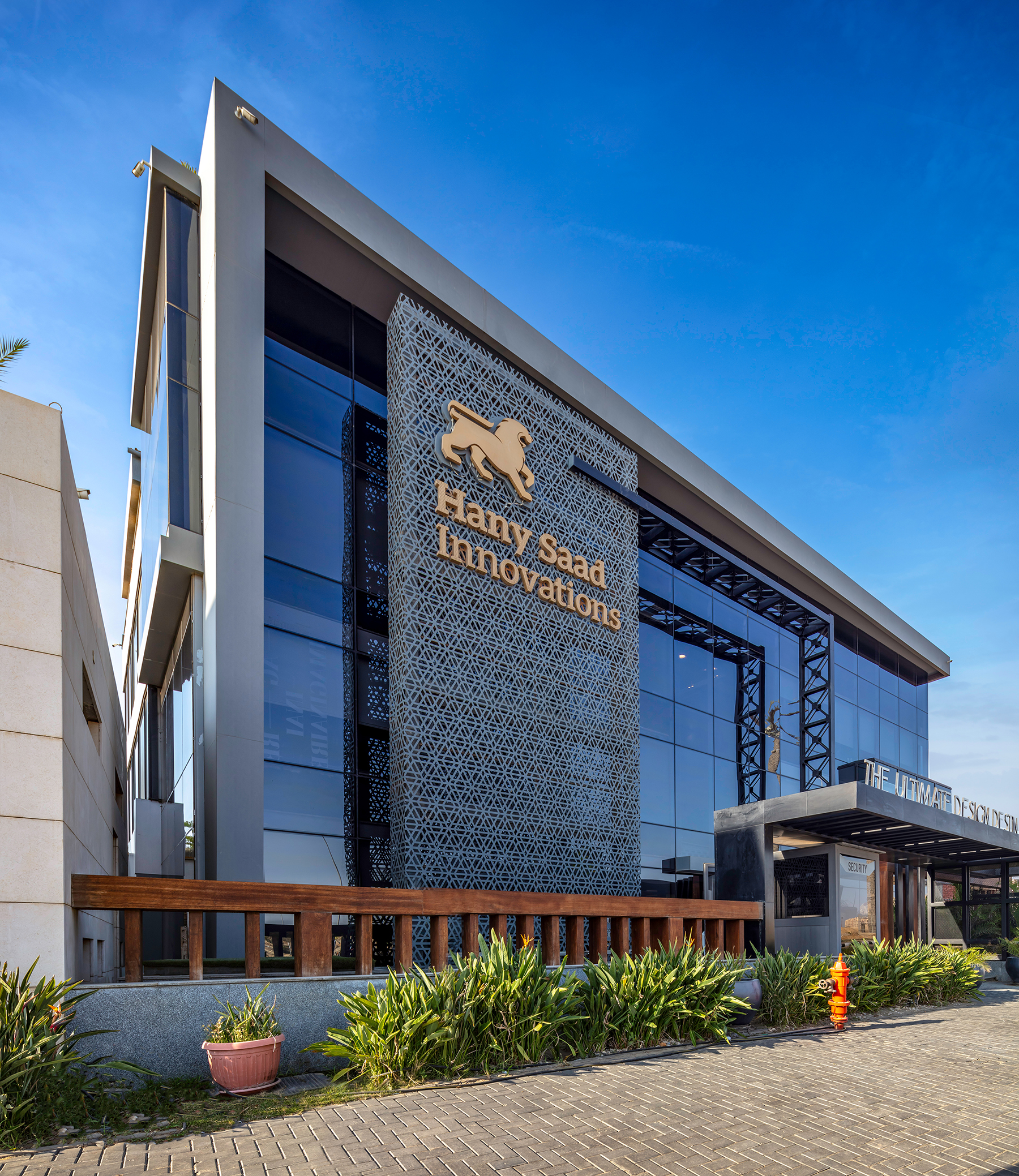 Interior
The interior of the HQ is marked by an array of textures and materials, from cascading suspended granite steps to wooden panels lining the walls of the reception area and main meeting room. Spectacular reflective gloss bounces off of geometrically emblazoned fiberglass walls, housing the main elevator. The reflective effect, coupled with the added silver lines and rhombus designs, gives a refreshing illusion of depth that adds extra space to an otherwise spacious entrance area.

In the main reception area, what seems to be a contemporary art installation lights up the smooth dark floors and throws surrounding furniture into a multi-hued spectacle of light and color. The seven asymmetrical cubes are modules built into the wall, changing color in a rhythmic and sequenced pattern designed to promote serenity and introspection among reception visitors.


Stairs




The ambience of the building carries consistently from ground to third floor, with geometric minimalist lines throughout, staggered walls, and pillars adding dynamic flow to the floor plans of the spaces. Overall, the feel is highly modernist, with a slightly futurist touch conveyed in the choice of furniture, all delicately designed and unique in shape and upholstering.

An all-inclusive professional environment should be designed to convey clarity and singularity of vision, and we've done just that. From color palette to anthropocentric floor planning designed to make our visitors' experience streamlined, following a logical flow that allows them to spot all the main design hallmarks of the HSI headquarters building.




DROP US A LINE

info@hsi-eg.com


+20 2256 141 27 / +20 2256 141 28
+20 128 7831 831