Marassi summer house
Ample harmonious space
At HSI we take pride in treating each property as its own legacy, to be shared for generations to come. We approach our residential projects with an eye to the future; the stories that will be lived in the space, and the memories they'll leave behind.
This Marassi Summer House brings together sleek exterior geometric lines and lux modern interior finishes that immerse residents in another world within an expansive, natural beach landscape. Stone and tile tactically placed throughout the exterior patio are complemented by soft, inviting seating areas. A central marble-clad bar refines the space, providing ample room for hosting and memorable outdoor occasions.
Landscape
Inviting formal minimalism into a sea-view residence is one of the ways we've attempted to preserve and respect the existing harmonies of nature. By creating elegant design which blends seamlessly with nature, while offering shelter, comfort and visual interest, we're emphasizing the beauty of an ever-present landscape, and adapting ourselves to it.

Strong horizontal lines accent the space throughout, bringing attention to the horizon and beckoning it closer with every step. While cool, airy color palettes meld with the sky and reflect the changing colors of the sun throughout the day.
Entrance
Spectacularly cohesive marble lines every flat surface of the house's entrance. An eye for refinement is necessary here to ensure that all edges are perfectly shaped, fitting together like a luxurious puzzle.

Glass hand-railing adds an elegant touch to the marble staircase, while distributed accent lighting adds sheen and a sense of transparency and warmth.

Metallic statement pieces and design elements are incorporated into the entrance and lobby, providing welcome structure in a room otherwise designed to look and feel like a promenade in the clouds.

Reception + Dining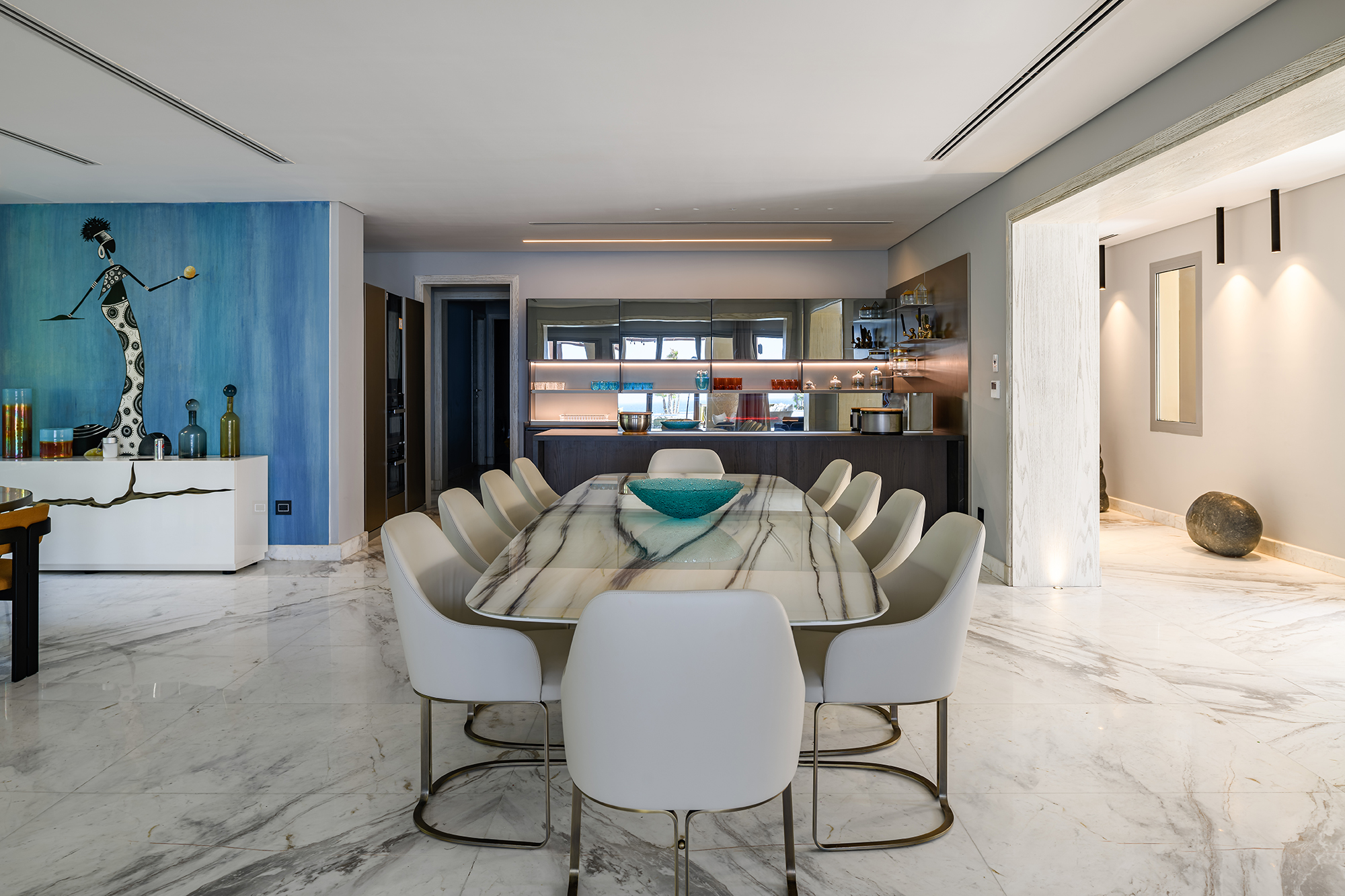 A spacious, sunny and characterful living area is made even more comfortable with the open kitchen and dining area connected as one. Large marble slabs make up the floor of both the dining room and entertainment area, adding an elegant vastness to the space. White marble makes this look particularly chic, as it's complemented by cool grey tones and a huge asymmetrical, solid-color area rug in the main entertainment area. Bringing comfort and flair into one home without making any sacrifices, we've adopted a laid-back and open mood for this summer house.
DROP US A LINE

info@hsi-eg.com


+20 2256 141 27 / +20 2256 141 28
+20 128 7831 831