Nileen Towers

Luxury Administrative Tower
Nileen Towers, Sudan


Embellished in vertical and horizontal accents throughout, the Nileen Towers in Sudan is one of our prime administrative projects. Cool greys meet earthy greens and browns in a tri-color palette that scintillates the senses. Calm and professional, the clear cut lines and glass separators between office spaces offer a glimpse into the happenings of the office while remaining isolated and exclusive. Crystal clear glass promotes the illusion of space, while geometric design elements add depth and intrigue.
1.0 Ground Floor
---
Entrance

In classic monotone colors, the entrance boasts double height ceilings that are luxurious and decadent. Further accentuated by the modern chandelier pieces that add a sense of space and luminosity. We've chosen to alter between glass and wood separators, adding detail with both design and texture.
Entrance
Elevated double height ceilings offer excellent views from above and below, for a spectacular functional office environment.

Entrance





Entrance




2.0 Fourth Floor


---
Offices

Offering comfort in decadent luxury, our office designs are characterized by wall-to-wall carpeting that varies among the various rooms. Glossy bold tabletops carry on from conference rooms to executive desks, a hallmark in the design of this magnificent tower.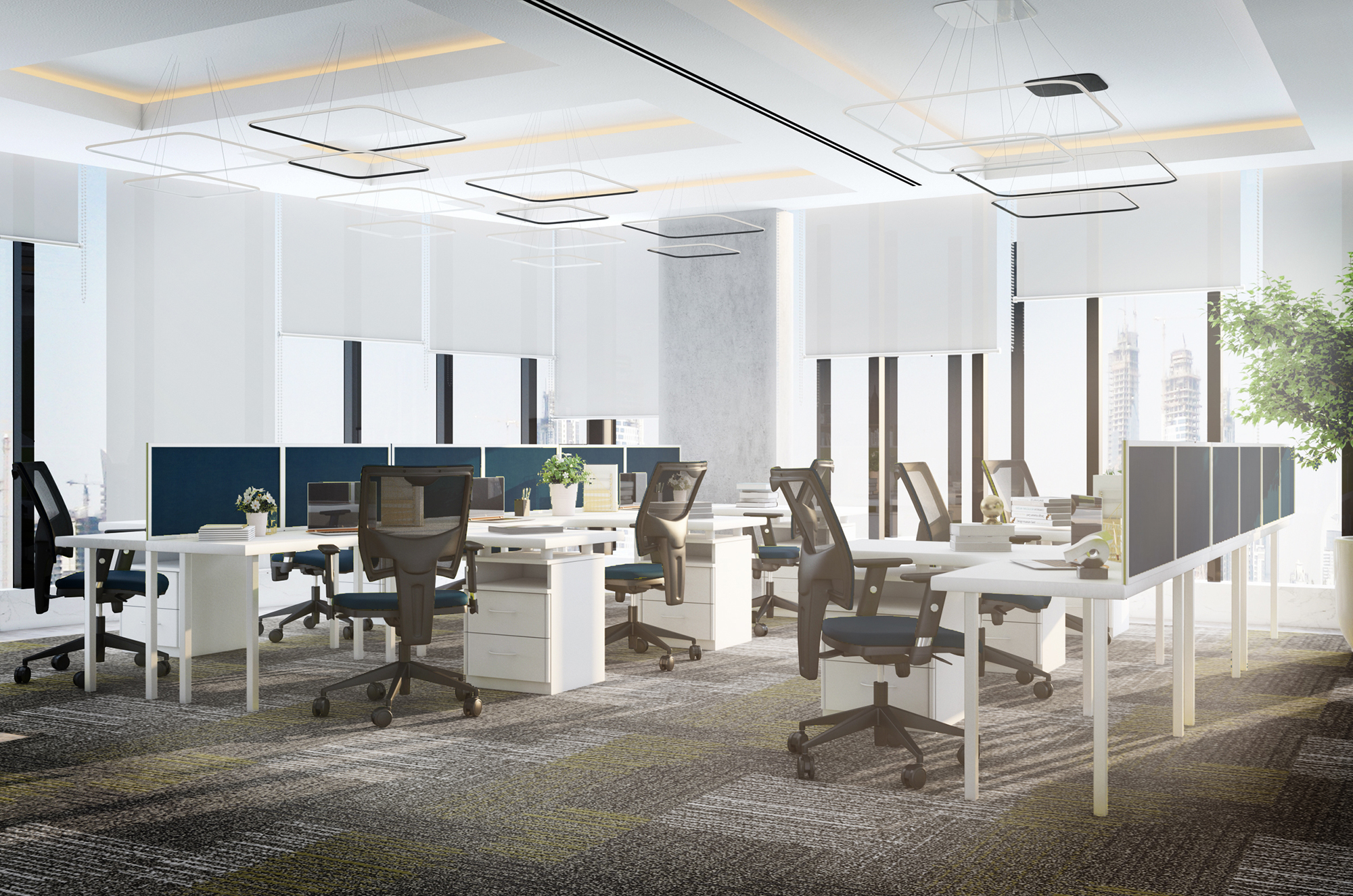 Workspace

Managerial Office



3.0 Fifth Floor


---
Managerial
Offices

Clerical office spaces are spacious and fresh, offering a corner window and light all around. Comfortable, well-spaced out seating is highly functional, and allows employees to carry on their day's work in an environment tailored to make it as thrilling as possible.



Office 01

Office 02
4.0 Sixth Floor
---
Waiting Room & Meeting Rooms

Bolstering splendid use of lighting, our waiting room and meeting rooms use warm backlit lights, accentuating an inverted ceiling as well as the bases of furnishings, desks and cabinets. The effect is spectacular, picture perfect professional spaces.



Reception





Meeting Room




4.0 Seventh Floor


---
Managerial
Offices

Our managerial office designs are dynamic. We've made a special consideration to make them stand out in color and style from the rest of the building's design. Here you'll find deeper, richer colors, as well as more functional and comfortable upholstery for long evenings spent at the office closing the latest deals.


Office 01
Office 02
Office 03
DROP US A LINE

info@hsi-eg.com


+20 2256 141 27 / +20 2256 141 28
+20 128 7831 831